SPEAKING TREE ESSENTIAL OILS
February 5, 2018
SPEAKING TREE PEPPERMINT ESSENTIAL OIL
February 5, 2018
Ever since I introduced essential oils, aromatic candles and various supplements into my daily life, my overall lifestyle and health has changed for the better. The Speaking Tree Lavender Oil has been a part of my daily life and has become my best buddy to fight depression, stress and insomnia with. It was the first time that I used an essential oil and I've been hooked, I'm now looking forward to try other essential oils as well.
While lavender oil is known for being a versatile essential oil, tea tree oil is widely used for treating oily and acne prone skin. If you are a regular reader of my blog, you are probably aware of my Korean Sheet Mask love. The first time I discovered the wonderful benefits of tea tree oil was when I used a tea tree sheet mask the day after getting a fresh hormonal acne and the acne shrunk overnight without leaving a spot. I do not suffer from acne (*touchwood*) but that one time I was suffering from a terrible skin infection, my inflamed skin used to calm down for a few days every time I used a tea tree sheet mask. I was so impressed that I was looking for a tea tree essential oil to treat my infection with but because I've never used one, I didn't know which brand is better. Thankfully, my infection bid me goodbye after I started taking probiotics and I did not bother to finish my research on essential oil brands.
Fast forward to a couple of months ago, I was approached by a PR asking me to choose a few products from a list they provided. I choose the Speaking Tree tea tree oil despite not suffering from oily and acne prone skin because only I am aware what my skin has been through, and I am aware that it can happen to anyone, at any point. The probiotics had done wonder to my skin but I wanted to be prepared, especially since my big day is approaching and with a tea tree oil from a brand like Speaking Tree, I know how to treat sudden breakouts.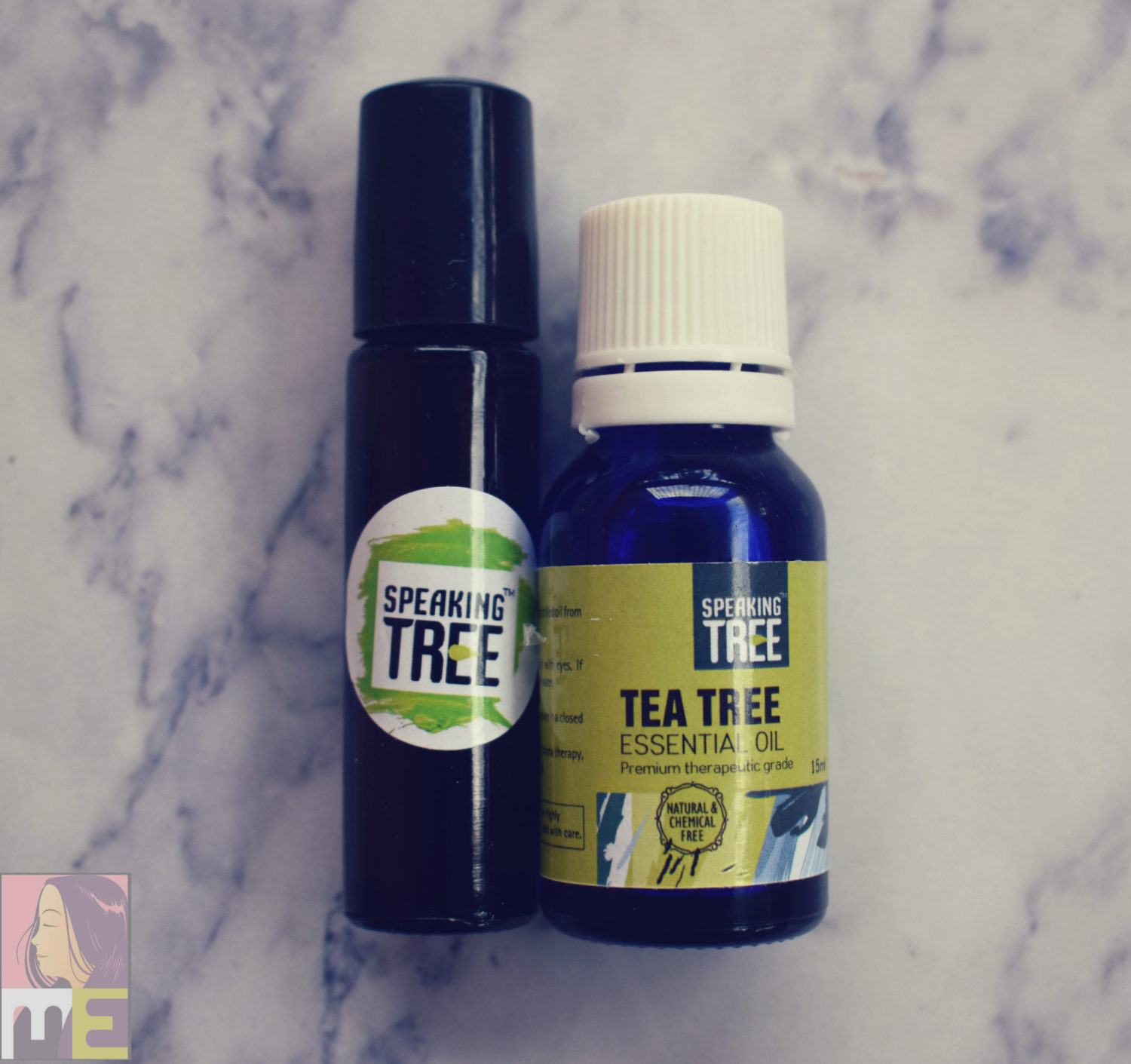 Speaking Tree Tee Trea Essential Oil:
Speaking Tree's Tea Tree essential oil is 100% natural and organic. It contains premium therapeutic grade Tea Tree extracts which have unbelievable healing properties.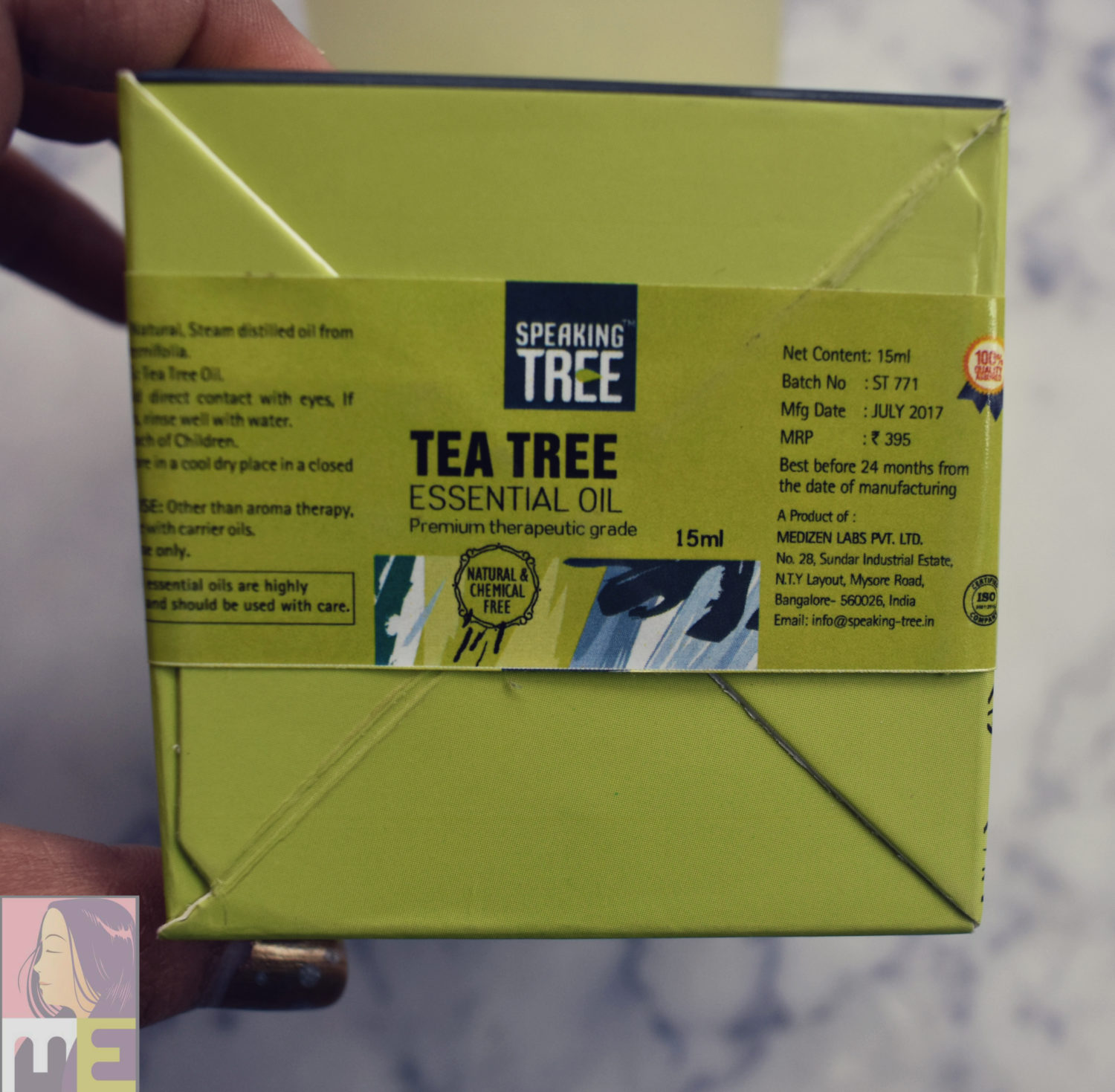 My experience:
The Speaking Tree Tea Tree Essential oil comes in a cute green card board packaging along with a European Dropper. I filled the European dropper with water and a few drops of the essential oil since I'm not sure if tea tree oil is supposed to be used raw like the lavender oil. Since I have a normal skin which tends to get dry during winter I avoid applying it on my full face. Instead I applied it on the few zits that I got because of the wedding shopping stress and travelling to and from my hometown and Kolkata every single weekend. Those zits had been stubborn; I have been getting them ever since my college days whenever I travelled frequently. However, with around 2-3 application of the tea tree oil, those zits disappeared and never came back. I also add a few drops of the oil to my bathe because of the anti-septic benefits and it feels quite refreshing. I feel it's going to become the best buddy to an oily skin beauty like the lavender oil has become mine.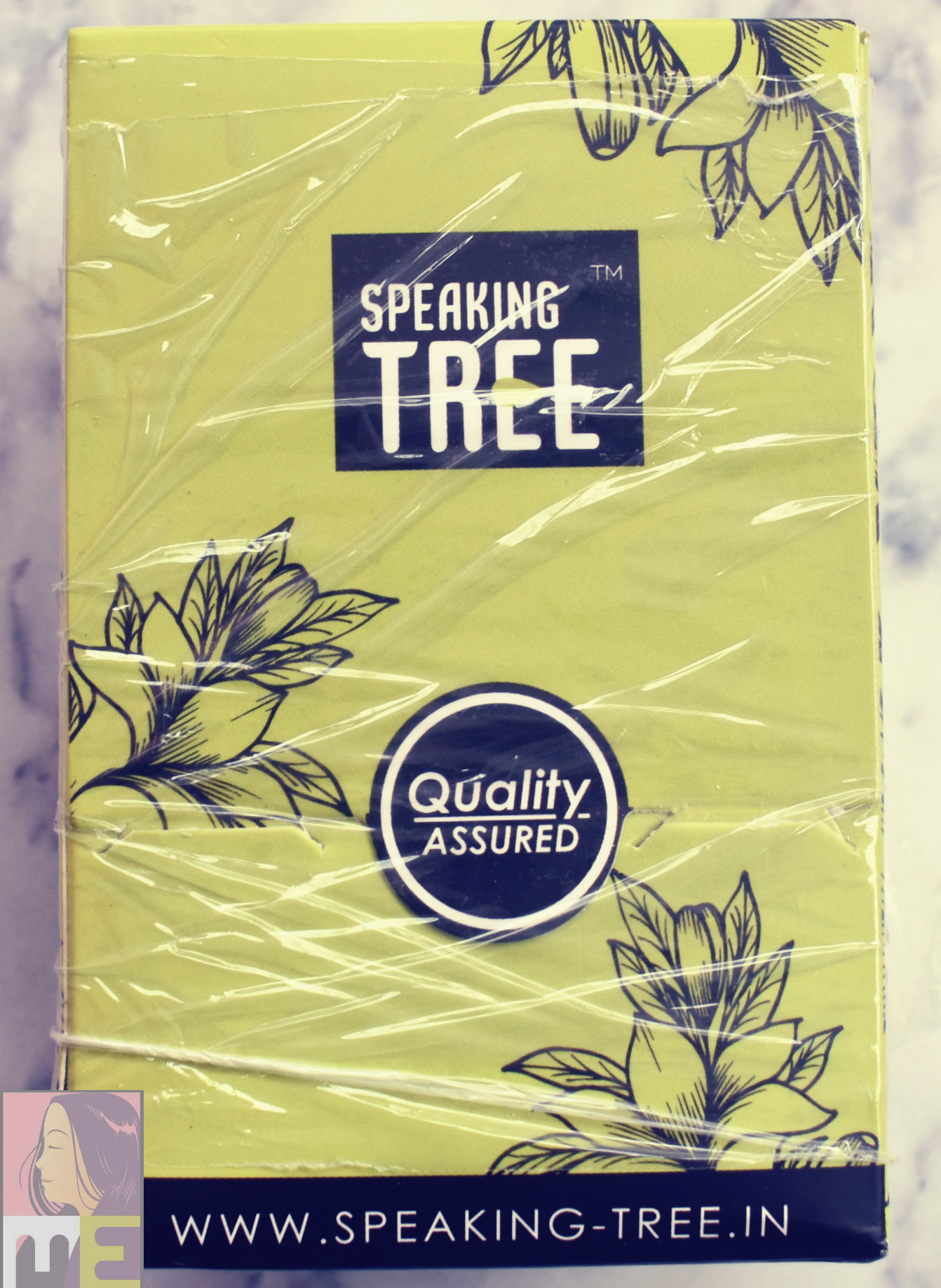 Overall, I'm thankful for having the Speaking Tree tea tree oil discovered. Having it in my stash makes me feel safe and prepared against sudden breakout. I take the water &essential oil filled dropper with me wherever I go. I think it's a must have for oily and acne prone beauties and I'm going to get one for my sister.
Beautifully Me